Our Services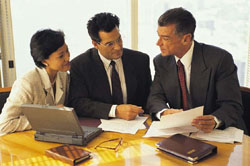 Financial Planning
We offer financial management strategies specific to each client's needs throughout each phase of life. We can walk you through a step-by-step process to help make you feel more comfortable with your decisions. Whether it is accumulation for retirement, estate planning, or specific financial requirements, we create and maintain a plan to accomplish those objectives.
What to expect from Watermark Investment Services
Disciplined Investment Management Strategies:
We help clients manage their wealth by striving to manage risk and expectations utilizing broadly diversified portfolios. Our disciplined process offers flexibility to take advantage of opportunities while managing market volatility.
We are able to offer assistance for the following:
Defined Contribution Plans
Money Purchase Pension (MPP)
Profit Sharing
401(k)
KEOGH (HR-10)
Defined Benefit Plans
Taft-Hartley Plans
Individual Retirement Accounts
Traditional IRA
Roth IRA
SEP (Simplified Employee Pension) IRA
Financial and Estate Planning
Retirement and education planning
Tax planning strategies
Wealth transfer
Charitable giving
Investment Services
Portfolio management strategies
Brokerage services
Cash management strategies
Risk and Liability Management
Income protection strategies
UITs